Disney is going a bit viral with the release of the new movie Monsters University set for release this June.  The new campaign includes a fake Monsters University website for admissions etc. and it looks great!

The website is complete.  All that you would expect to find on a college website is there and clickable.  The academics page provides a list of degree programs while the campus life page links you to restaurants, sports programs, and clubs.  There's even a student store.  And on every page there are monster specific details that are pretty clever.  For example, if you want to major in engineering, the suggested reading list includes:
Properties of Scream Energy, by Tuttles & Braggert
Transference and Polarities, by Terry E. Nance
Wiring: Conductive to the Last Spark, by Dr. Remy Lopez
Drop Dead Science, by Sparky Trinneau
The Importance of Containment, by Sir Fitch McGuirk
My Scream Runs Deep, Runs True, by Tan Lemoncurd
Specifications of Design, by Al E. Canfield
History of Canisters, by Dr. Kenneth N. Water
Every image I looked at on the site is beautiful too.  I sometimes am amazed and thankful that there are artists out there who are willing to take so much care in the work that they do, and all for us to enjoy!  This is a look at the University campus.

There's even a map of the campus.  Awesome!!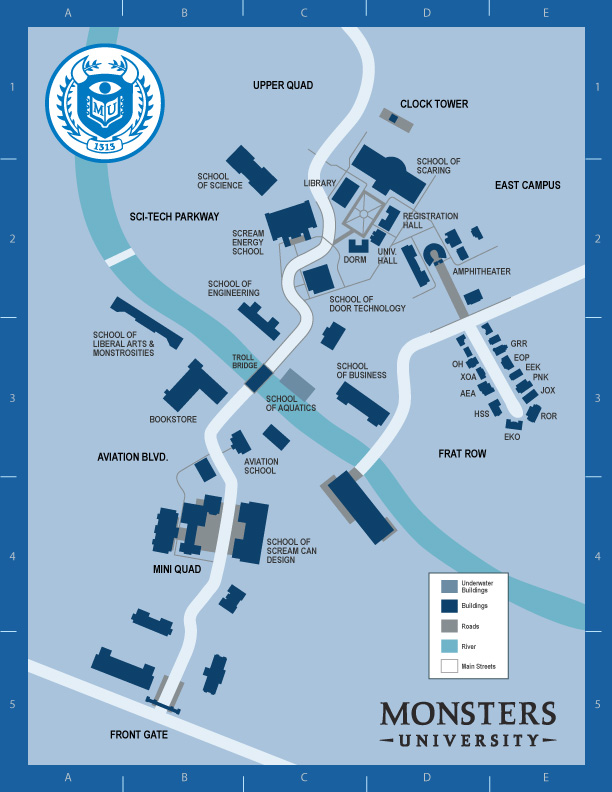 Monsters University Website
It looks like the only thing we can't do is actually fill out an admissions form.  I know this because I tried.  But you CAN buy a t-shirt at the campus store!  Anyway, good job Disney.  This is a cool bit of additional marketing that was fun to poke around a little.